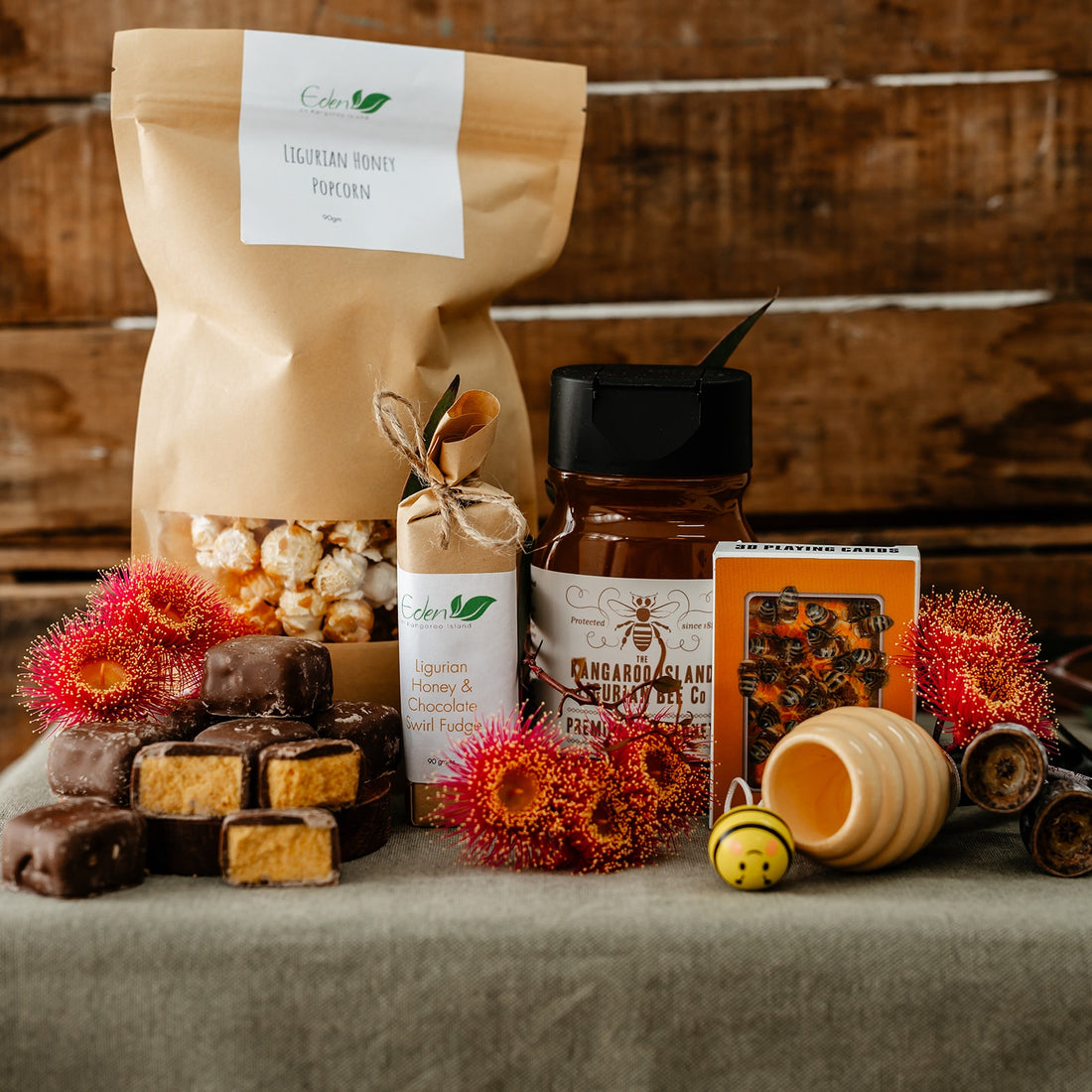 Families make a bee-line for our shop on Kangaroo Island and this hamper is a selection of all of the things the kids love. There is some of our honey, our honeycomb, honey and chocolates fudge, some bee playing cards and a really cute wooden toy that will keep the little tackers engaged for hours. 
PREMIUM RAW HONEY (SQUEEZE BOTTLE) 400g
Our premium raw honey is unfiltered, and undergoes minimal processing to retain all the natural health benefits of pure honey. Raw honey contains various vitamins, minerals, antioxidants, and enzymes, the health benefits these provide may be reduced if the honey is over heated and filtered. 
LIGURIAN HONEY POPCORN
Popcorn coated in our delicious raw honey. 
BEE LINE TOY
Hours of fun swinging the bee into the air and catching it with the hive. A test of skill for kids big and small. 
BEE PLAYING CARDS
A full deck of 52 playing cards for all your favourite games. 
LIGURIAN HONEY & CHOCOLATE FUDGE
The honey and chocolate give this fudge a delicious depth of flavour.
CHOCOLATE HONEYCOMB
The perfect combination of traditional crunchy golden honeycomb covered in a smooth and thick chocolatey coating. It's the way honeycomb should be.
SHIPPING INFORMATION
Orders are usually packed and dispatched within 1 to 3 business days, but may take longer during busy periods. Once the order is shipped you will receive notification and a tracking number.
Our honey is raw and is not fine filtered, which means it undergoes minimal processing during the extraction and packing, so that it retains the health benefits from the naturally occurring enzymes.
For this reason we are unable to send honey to Western Australia or the Northern Territory.
We can ship honey to Tasmania, but cannot ship any candles or wax products.
Depending on the country, international shipments may be subject to import taxes, duties and custom fees which are levied by the country of destination and are the responsibility of the recipient.
In some instances honey or honey products may not be cleared by Customs. Please be aware that we cannot offer refunds or guarantee receipt of products outside of Australia, and recommend checking the requirements of the destination country before placing an order.