Our Rare and Remote Honey Hamper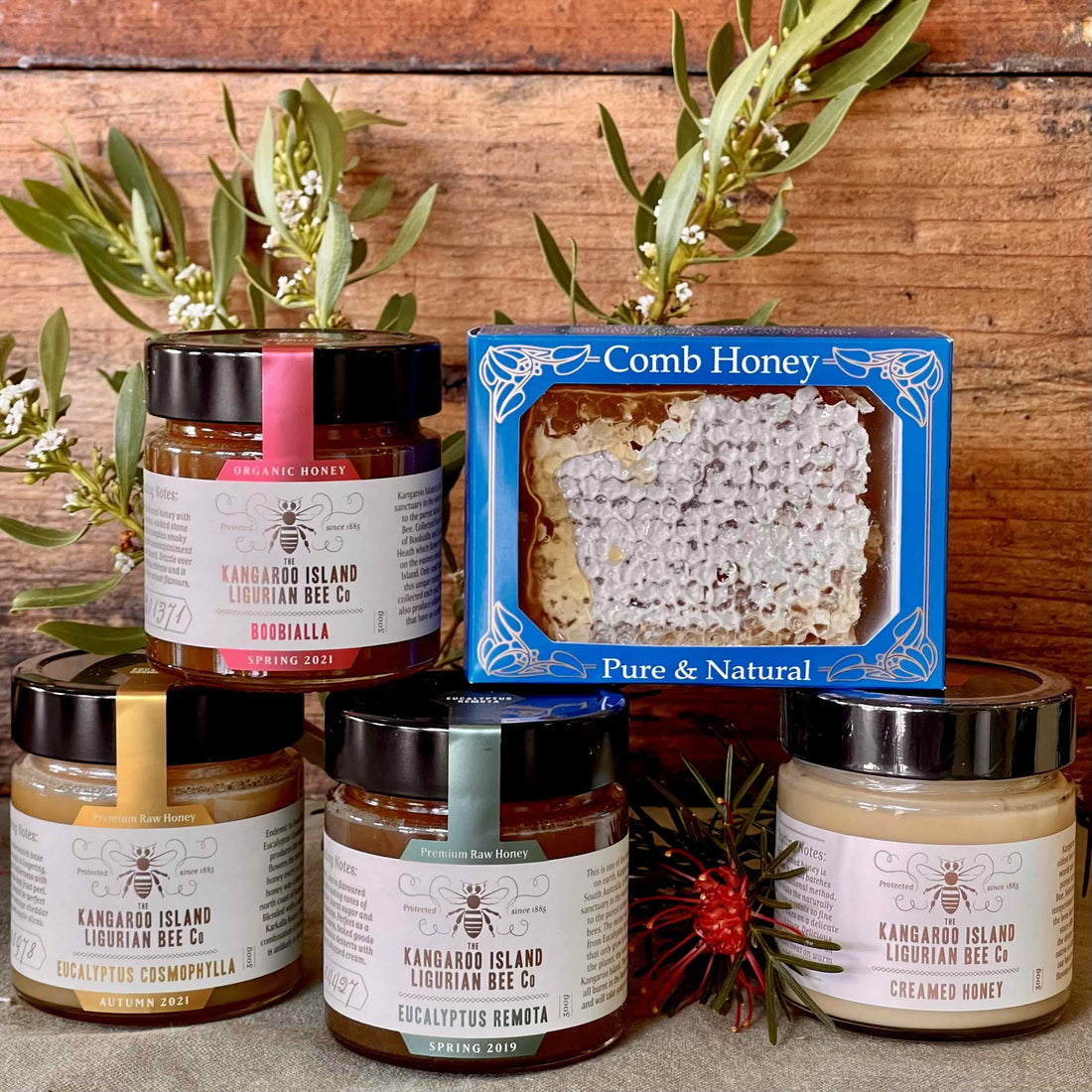 Our Rare and Remote Honey Hamper
This is the best of the best - a selection of our rare and remote honeys. Some of these honeys only occur every few years and all of them are very limited in quantity. These are the honeys that set us, and Kangaroo Island, apart from the rest. 
240g PURE COMB HONEY
Indulge in the purest form of honey with our comb honey produced by the ligurian bees on Kangaroo Island. 
Our Comb Honey is collected straight from the beehive, all the natural elemets in the wax and honey are preserved as no heating or processing occurs. The comb is built by the bees to store their honey, the warmth from the hive and movement of their wings ripens the honey to perfection. When it reaches the ideal moisture content the bees cap the honey comb cells to preserve the honey, ready for you to enjoy. 
Savor the unique and complex flavors of honey as the bees intended. Each batch carries a distinct taste, influenced by the flowers and nectar sources in the bees' foraging area.
300g EUCALYPTUS REMOTA HONEY
This particular variety of honey was collected by the bees in 2019 from flowering gum trees called Eucalyptus Remota that only grow in one location on the planet: the western end of Kangaroo Island. But if that wasn't special enough, nearly all these trees were destroyed by the bushfires on the island in 2020 and will now take up to 7 years to fully regenerate. 
You won't find this honey in a single supermarket, or store, anywhere in the world. There is simply not enough to go around. The limited quantity of jars have been hand packed on Kangaroo Island and they are only available in 300 gram numbered jars from one website, ours. 
A smooth, warm flavoured honey with tasting notes of creme brulee, burnt sugar and candied pecans. Perfect as a topping on warm, baked goods or fruity, banana desserts with a dollop of whipped cream. 
300g EUCALYPTUS COSMOPHYLLA HONEY 
Endemic to South Australia, Eucalyptus Cosmophylla only produces the abundance of nectar rich flowers the bees need for honey every 3-4 years. Collected on the north coast of Kangaroo Island, an accidental blending with a small batch of the ultra rare Karkalla honey during the extraction process created this unique combination of flavours that will not be repeated. 
Chefs that have tried it love the complex flavour profile, but it's not your everyday honey. 
This honey has a sweet, butterscotch base that evolves into a lingering, green vegetal bitterness with notes of stems and fruit peel. This honey would be perfect drizzled over vintage cheddar on fresh green apple slices.
300g BOOBIALLA HONEY
Collected from the nectar of Boobialla and Coastal Beard Heath, which flower in late winter on the eastern end of Kangaroo Island. These plants also produce edible native fruits that have an acquired taste. 
A deeper flavoured honey with notes of cacao, cooked stone fruits and a complex smokey finish. A great accompaniment for a cheese board. Drizzle over a slice of blue cheese and it enhances the robust flavours. 
Only small quantities of this unique tasting honey are collected each year, giving it a special place in our rare honey collection
300g CREAMED HONEY
Our creamed honey is created in small batches, using a traditional method, which make the naturally occurring crystals so fine the honey takes on a delicate creamy texture. Each variety of creamed honey is a reflection of the floral source the nectar is collected from.
Delicious straight from the jar, or as a breakfast treat on warm buttered crumpets. 
SHIPPING INFORMATION
Orders are usually packed and dispatched within 1 to 3 business days, but may take longer during busy periods. Once the order is shipped you will receive notification and a tracking number.
Our honey is raw and is not fine filtered, which means it undergoes minimal processing during the extraction and packing, so that it retains the health benefits from the naturally occurring enzymes.
For this reason we are unable to send honey to Western Australia or the Northern Territory.
We can ship honey to Tasmania, but cannot ship any candles or wax products.
Depending on the country, international shipments may be subject to import taxes, duties and custom fees which are levied by the country of destination and are the responsibility of the recipient.
In some instances honey or honey products may not be cleared by Customs. Please be aware that we cannot offer refunds or guarantee receipt of products outside of Australia, and recommend checking the requirements of the destination country before placing an order.