Our Single Varietal Honey Hamper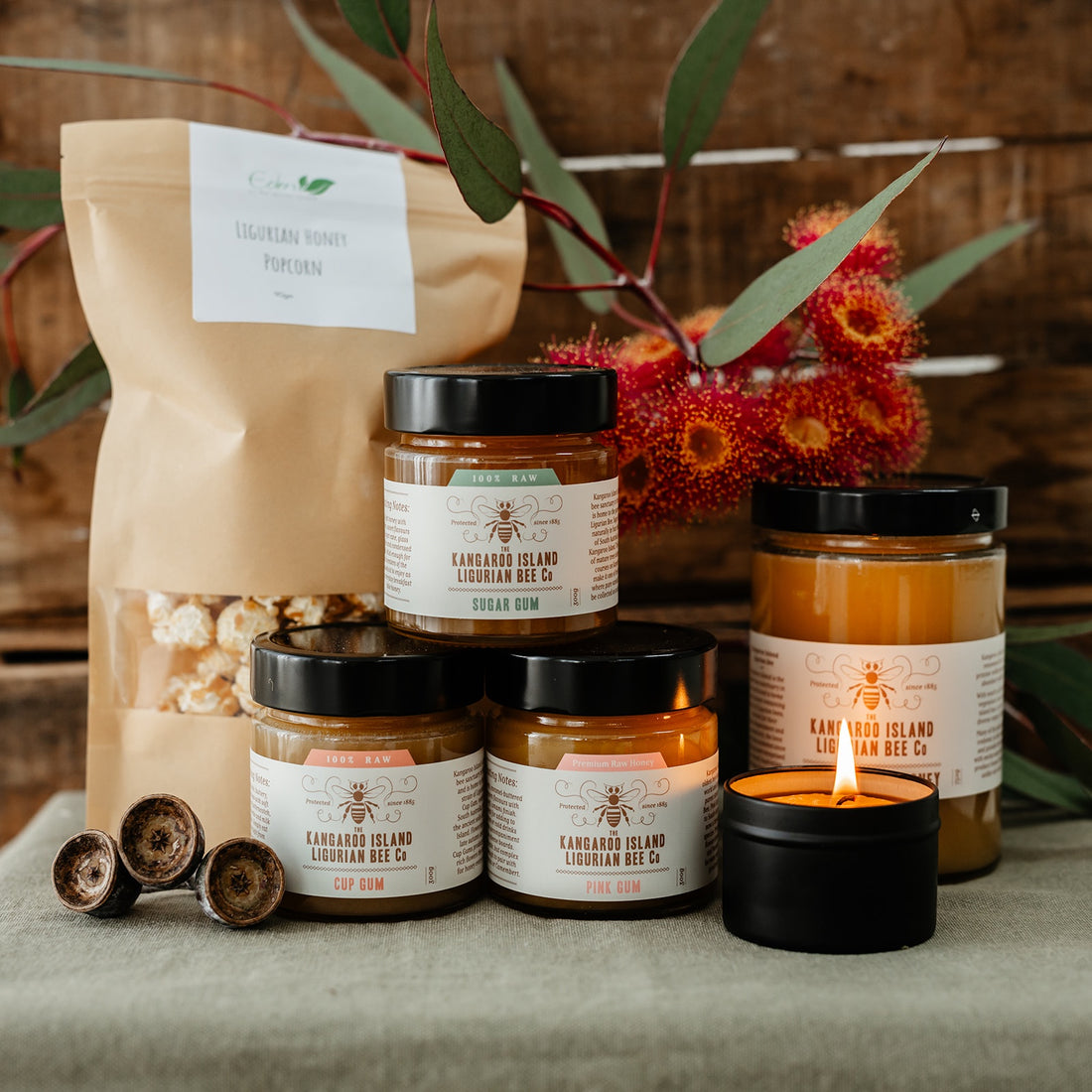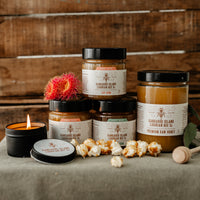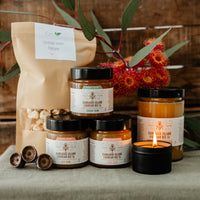 Our Single Varietal Honey Hamper
This hamper is all about what we do best - three different expressions of single botanical varietals found on the beautiful Kangaroo Island. Each of these honeys have their own characteristics and trying them alongside each other is  a great way to experience the different flavour derived from each botantical. 
750g PREMIUM RAW HONEY
With nearly 50% native vegetation cover, the island has a rich and diverse range of flora. Many of the plants are endemic to the island and provide the bees with nectar and pollen to produce honey flavours unlike any other. 
Our premium raw honey is unfiltered, and undergoes minimal processing to retain all the natural health benefits of pure honey. Raw honey contains various vitamins, minerals, antioxidants, and enzymes, the health benefits these provide may be reduced if the honey is over heated and filtered. 
300g SUGAR GUM HONEY
Sugar Gum occurs naturally in four distinct areas of South Australia, including Kangaroo Island. The large stands of mature trees along the water courses on Kangaroo Island make it one of the few places where pure varietal honey can be collected on an annual basis. 
A light honey with clean, sweet flavours of sugar cane, glass toffees and condensed milk. Mild enough for all members of the household to enjoy as an everday breakfast table honey. 
300g CUP GUM HONEY
Cup Gum, endemic to South Australia, grows on the ancient soils of Kangaroo Island. Flowering between late autumn and winter, Cup Gums produce the necatr rich flowers the bees need for honey every 3-4 years. 
This honey has a delicate, buttery sweetness with soft notes of butterscotch, dulce leche and milk toffees. Simply eat straight from the jar or spoon it over ice cream, pancakes or waffles.
300g PINK GUM HONEY
Pink Gum is endemic to South Australia, and is now a threatened flora species. Producing white flowers between March and November, it can be many years between good nectar flows.
Smooth, caramel buttered popcorn flavours with a soft, umami finish. A clean, savoury finish is true to the Eucalyptus characteristics this honey represents. Pink Gum honey is great for adding to warm or cold drinks or an accompaniment for cheese boards. Delicate, but complex enough to pair with Burrata or Camembert. 
TRAVEL TIN CANDLE
This hand-crafted beeswax candle is the perfect travel companion, with its convenient and versatile travel tin. Made with premium beeswax, this candle is designed to be smokeless and long-lasting with its clean, eco-friendly burn.
LIGURIAN HONEY POPCORN
Popcorn coated in our pure raw honey. 
WOODEN HONEY DIPPER
A must have for every honey lover 
SHIPPING INFORMATION
Orders are usually packed and dispatched within 1 to 3 business days, but may take longer during busy periods. Once the order is shipped you will receive notification and a tracking number.
Our honey is raw and is not fine filtered, which means it undergoes minimal processing during the extraction and packing, so that it retains the health benefits from the naturally occurring enzymes.
For this reason we are unable to send honey to Western Australia or the Northern Territory.
We can ship honey to Tasmania, but cannot ship any candles or wax products.
Depending on the country, international shipments may be subject to import taxes, duties and custom fees which are levied by the country of destination and are the responsibility of the recipient.
In some instances honey or honey products may not be cleared by Customs. Please be aware that we cannot offer refunds or guarantee receipt of products outside of Australia, and recommend checking the requirements of the destination country before placing an order.