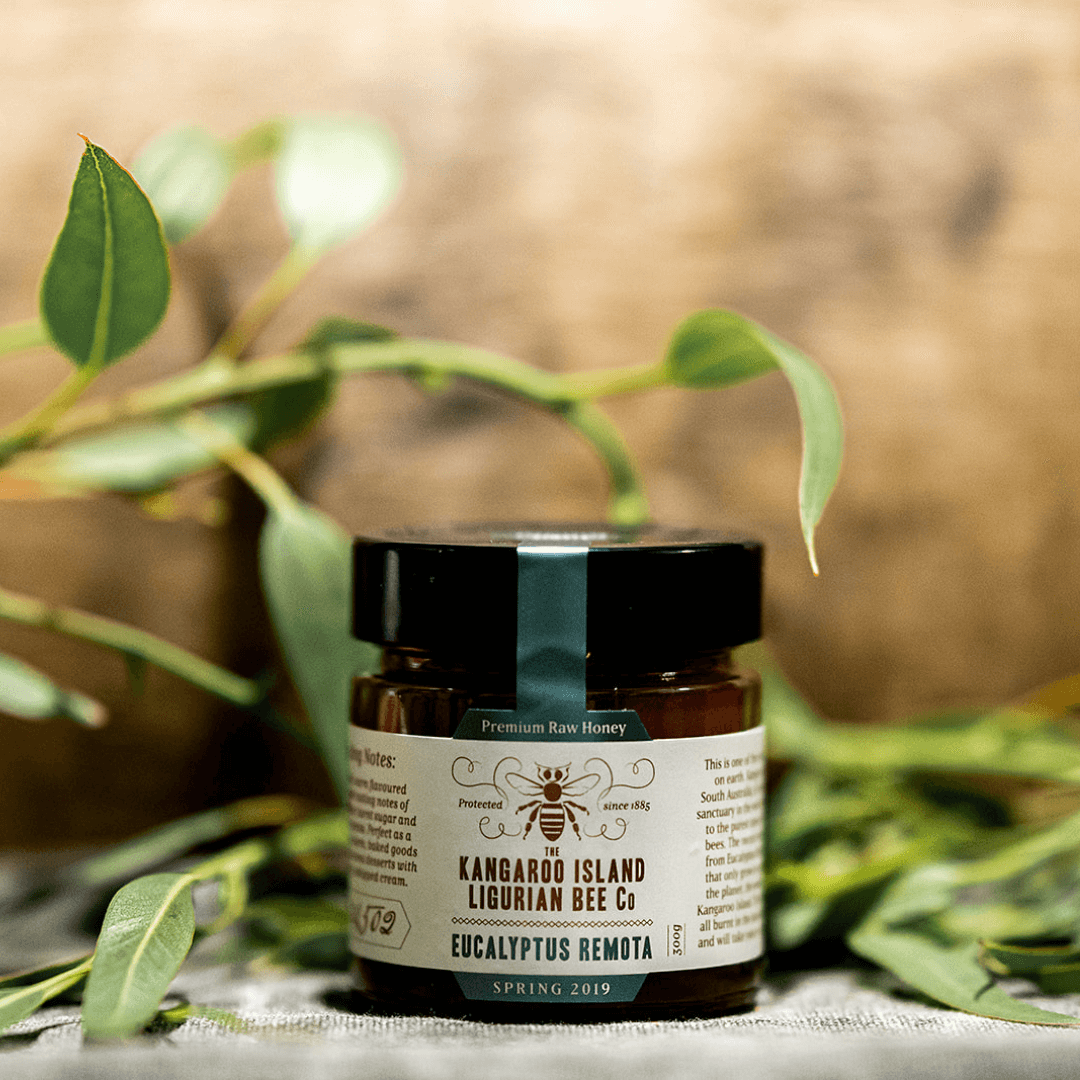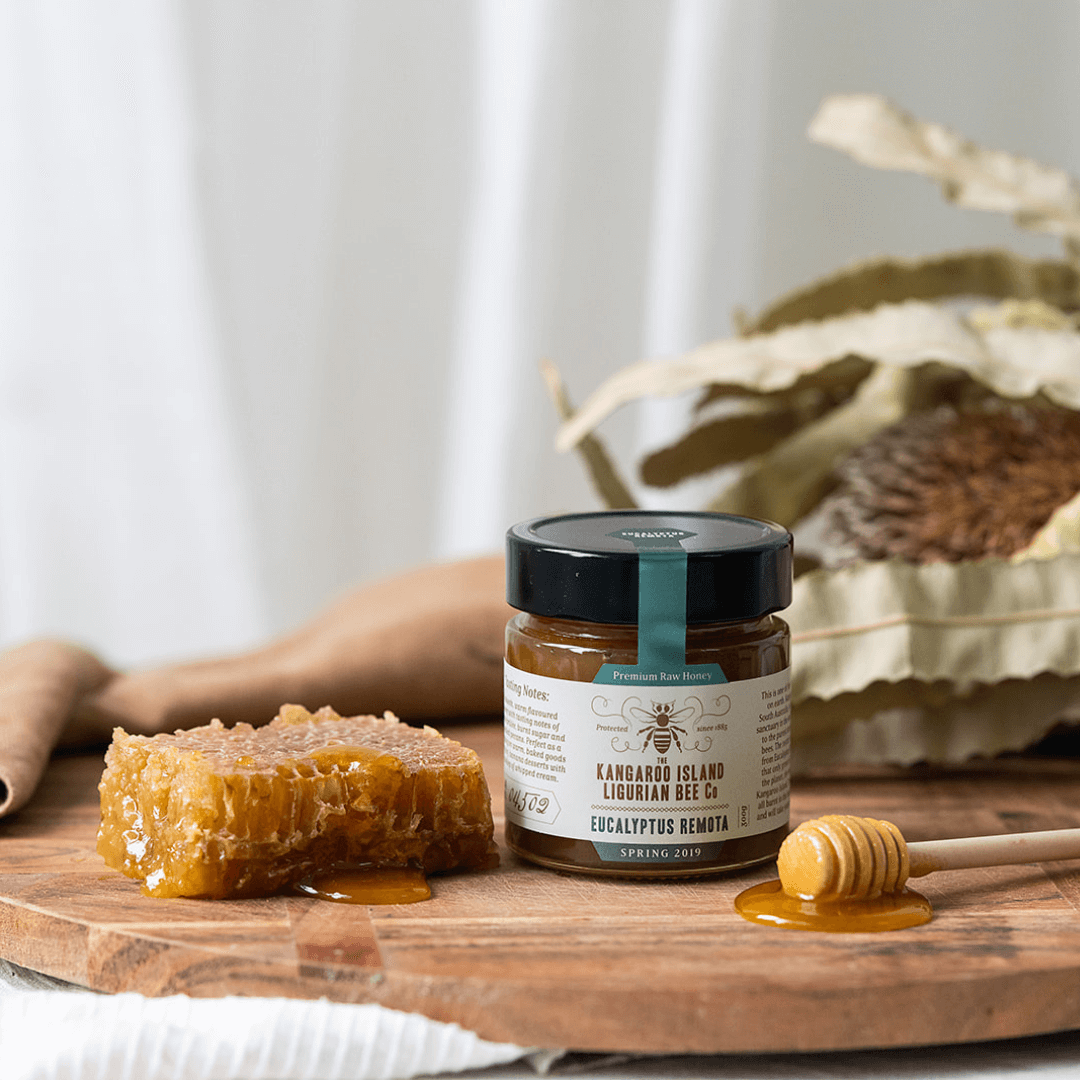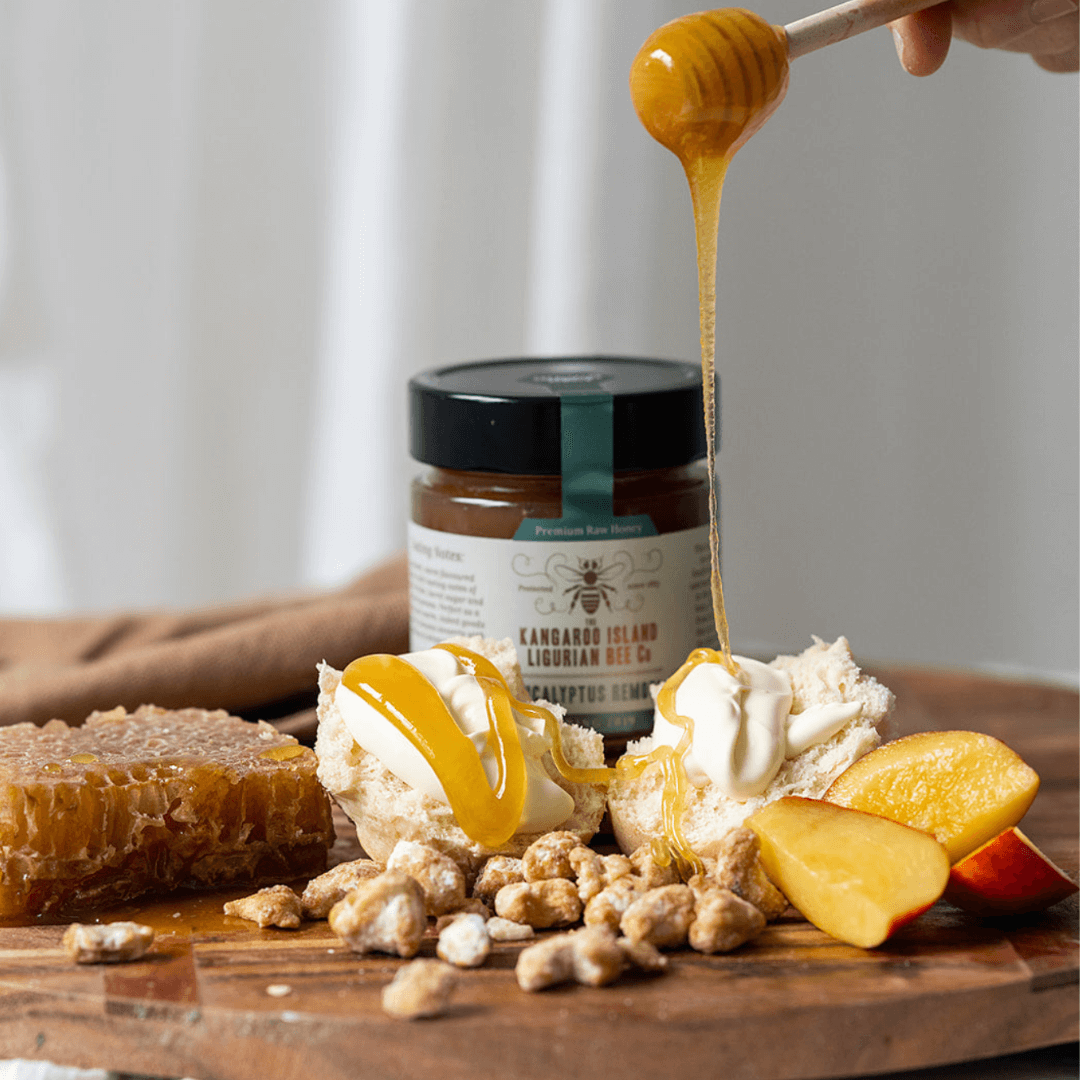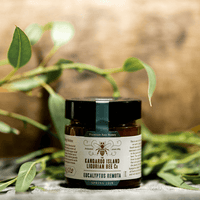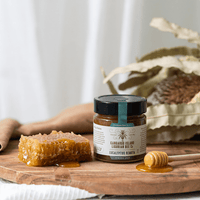 A smooth, warm flavoured honey with tasting notes of creme brulee, burnt sugar and candied pecans. Perfect as a topping on warm, baked goods or fruity, banana desserts with a dollop of whipped cream. 
Is this the rarest honey on Earth? 
To most people honey is just another spread on the supermarket shelf, nestled somewhere between the jams and peanut butter. But not this honey. 
For a start, this honey comes from Kangaroo Island, a pristine, GM free, bee sanctuary 13 kilometres off the coast of South Australia. 
Kangaroo Island is the oldest bee sanctuary in the world and home to the purest Ligurian bees on Earth. Renowned for their gentle nature, they were brought to the island in the 1800's, protected by a special act of parliament in 1885 and have been fortunate to avoid most of the diseases and contaminants that have affected other bees around the world. 
This particular variety of honey was collected by the bees in 2019 from flowering gum trees called Eucalyptus Remota that only grow in one location on the planet: the western end of Kangaroo Island. But if that wasn't special enough, nearly all these trees were destroyed by the bushfires on the island in 2020 and will now take up to 7 years to fully regenerate. 
You won't find this honey in a single supermarket, or store, anywhere in the world. There is simply not enough to go around. The limited quantity of jars have been hand packed on Kangaroo Island and they are only available in 300 gram numbered jars from one website, ours. 
As you can imagine, this honey has an authentic, pure, beautiful flavour. But taste isn't the only benefit provided by these unique bees. They also make propolis, a natural substance shown in University of Sydney research to be effective in the treatment of human cancer cells. Further investigation is being undertake to determine the therapeutic benefits. 
This honey is a rare and special treat, to be enjoyed, shared, or sent as a unique gift to friends and family around the world. Or you may choose to just keep it. Honey is the only food that doesn't need or have an expiry date. Edible honey was found in the Egyptian tombs. 
So, while honey lasts forever, this one will disappear very quickly. 
SHIPPING INFORMATION
Orders are usually packed and dispatched within 1 to 3 business days, but may take longer during busy periods. Once the order is shipped you will receive notification and a tracking number.
Our honey is raw and is not fine filtered, which means it undergoes minimal processing during the extraction and packing, so that it retains the health benefits from the naturally occurring enzymes.
For this reason we are unable to send honey to Western Australia or the Northern Territory.
We can ship honey to Tasmania, but cannot ship any candles or wax products.
Depending on the country, international shipments may be subject to import taxes, duties and custom fees which are levied by the country of destination and are the responsibility of the recipient.
In some instances honey or honey products may not be cleared by Customs. Please be aware that we cannot offer refunds or guarantee receipt of products outside of Australia, and recommend checking the requirements of the destination country before placing an order.
Great honey, great customer service.
A beautiful flavour, I could definitely taste the brulee flavour. Very enjoyable on the crumpets.
Sweet treat in a jar
I find the honey has more flavour than any I have tasted before, which I like. I thank my cousin Joy for sending me the cutting from the paper.
I was kept informed as to when and what time delivery would be , which is very helpful. Thank you
How sweet it is!
My husband and I ate Eucalyptus Remota Honey with reverence. It is a testament to your care and nurturing that we were able to do so. How honored we felt taking our first taste of such a remarkable product. From my heart I thank your bees.
Eucalyptus Remota Honey
Light golden in colour, the honey is floral, fruity and earthy. I would have to say it is the most pure honey I have ever tasted and will definitely purchase again.