The Ultimate Kangaroo Island Hamper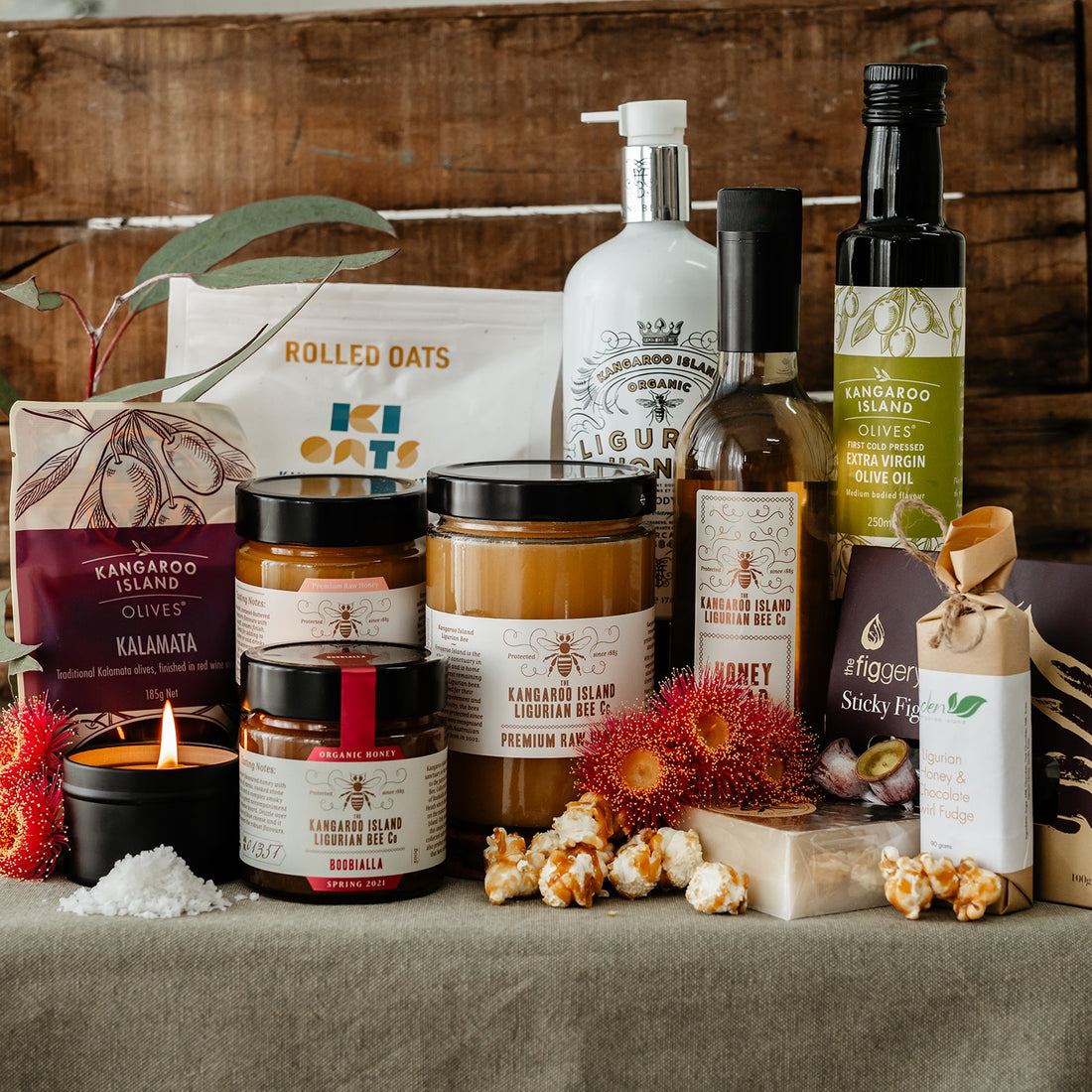 The Ultimate Kangaroo Island Hamper
Looking for a really special gift that showcases the special produce we are lucky to be surrounded by? We have scoured Kangaroo Island for the best of the best - this hamper has plenty of our honeys as well as stunning produce from our mates at KI Olives, KI Salt, The Figgery, and Kangaroo Island Oats. 
HONEY MEAD 375ml
Honey Mead. Island Beehive teamed up with Maxwell Wines, the largest and most successful producer of mead in the southern hemisphere, to produce a Kangaroo Island Ligurian Honey Mead which would be only available from Island Beehive on Kangaroo Island. 
BOOBIALLA HONEY 300g
A deeper flavoured honey with notes of cacao, cooked stone fruits and a complex smokey finish. A great accompaniment for a cheese board. Drizzle over a slice of blue cheese and it enhances the robust flavours. 
CUP GUM HONEY 300g
This honey has a delicate, buttery sweetness with soft notes of butterscotch, dulce leche and milk toffees. Simply eat straight from the jar or spoon it over ice cream, pancakes or waffles.
PREMIUM RAW HONEY 750g
Our premium raw honey is unfiltered, and undergoes minimal processing to retain all the natural health benefits of pure honey. Raw honey contains various vitamins, minerals, antioxidants, and enzymes, the health benefits these provide may be reduced if the honey is over heated and filtered. 
KANGAROO ISLAND SMOKED KALAMATA OLIVES 185g
Well balanced and not too overpowering, smoked Kalamata olives are often featured as the main attraction as part of an entree, antipasto or pre-dinner drinks. Paired with cheese (Pecorino is our favourite), prosciutto and a full-bodied red wine.
KANGAROO ISLAND OLIVE OIL 250ml
A good all-round EVOO perfect for use with; salads, pasta, meat, fish, bread, soup and saute'ing.
KANGAROO ISLAND ROLLED OATS 450g
Kangaroo Island Oats are 100% Kowari oat variety and all grains are grown on Kangaroo Island. The traditional rolled oats are steamed, flattened and rolled to achieve a soft, fluffy consistency when cooked. 
THE FIGGERY STICKY FIGS 100g
Sticky Figs are a delicious treat just by themselves, but they are an excellent addition to a cheese platter, especially with sharp cheddars and blue cheeses. They combine particularly well with walnuts and almonds. Also great with cured meats such as prosciutto.
LIGURIAN HONEY & CHOCOLATE FUDGE 90g
The honey and chocolate give this fudge a delicious depth of flavour, perfect with a cup of coffee. 
KANGAROO ISLAND FRESH GARLIC POWDER 30g
Even though Australian garlic is out of season May to December, with our garlic powder you can still enjoy the taste of fresh Australian garlic, all year round. Perfect for your beef, chicken or lamb. 
LIGURIAN HONEY POPCORN 
Popcorn coated in our delicious raw honey. 
KANGAROO ISLAND SEA SALT 60g
Kangaroo Island Sea Salt is sourced from the pristine Southern Ocean off the south coast of Kangaroo Island, South Australia. Using solar energy the end result is a crystal clean, sustainable product from one of the cleanest waters of the world.Taste the difference!
LIGURIAN HONEY HAND & BODY WASH 500ml
Rich, organic honey nectar combined with aloe vera and Kakadu Plum will leave hands & body fresh, replenished and invigorated .Fresh uplifting fruit-driven scents of Italian blood orange rise from the sweet mellow, subtle heart of sweet honey and white flowers on a base infused with complex vanilla. 
HONEY & EUCALYPTUS SOAP BAR
Hand made on Kangaroo Island, with honey and the scent of the Kangaroo Island Eucalypts. 
TRAVEL TIN CANDLE
This hand-crafted beeswax candle is the perfect travel companion, with its convenient and versatile travel tin. Made with premium beeswax, this candle is designed to be smokeless and long-lasting with its clean, eco-friendly burn.
SHIPPING INFORMATION
Orders are usually packed and dispatched within 1 to 3 business days, but may take longer during busy periods. Once the order is shipped you will receive notification and a tracking number.
Our honey is raw and is not fine filtered, which means it undergoes minimal processing during the extraction and packing, so that it retains the health benefits from the naturally occurring enzymes.
For this reason we are unable to send honey to Western Australia or the Northern Territory.
We can ship honey to Tasmania, but cannot ship any candles or wax products.
Depending on the country, international shipments may be subject to import taxes, duties and custom fees which are levied by the country of destination and are the responsibility of the recipient.
In some instances honey or honey products may not be cleared by Customs. Please be aware that we cannot offer refunds or guarantee receipt of products outside of Australia, and recommend checking the requirements of the destination country before placing an order.